April was a month of work, sleep, and visiting sailors, Roger, Annie and Laura Ling, They set Sail from Chattanooga the year before we did. With their bigger bluewater boat, they sailed across to the Islands. Now they are returning to Chattanooga to replenish that old cruising kitty. Laura has been educated on the boat with a home schooling program. She is far more articulated than the land based educated for her age.
May drifted by like a bad cold. My complete log for that month has been lost along the highways of cyberspace. On uploading, the server deleted the lot. I still have some of the photos though. Not much happened in April. So I did not burst a blood vessel over the loss, just a tad annoyed that it took 7 hours to get together and edit.
| | |
| --- | --- |
| | One of the highlights of the month was a purchase of my much desired Kayak. Here I am demonstrating what I thought of losing 7 hours toiling on a fricking computer. |
Work was getting scarce at my place of employment, and I found myself looking about for something else to occupy my time. I felt I was on a treadmill. I got up before light, bleary-eyed and coffee-drowned myself into work, I stood at a large table and waited for the first insult or rude communication of the day. Happiness was not on my list of haves, and there were many nights cycling back to Gandy that dust would stick to a little wetness on my face. Then the day came. I was waiting for it like a woman prepared for execution. My prerogative is that I do not have to agree to how others manage their affairs or be concerned with what 'they' think. So, on that note, I left the building.
Unemployed, and surrounded by the excrement of cockroaches, there was a need for respite, so I par-took the necessary maneuver of visiting my drinking buddies down on Marco Island. Reason would be my dear pal Sarah was celebrating her 50th birthday and was preparing a melee of succulent morsels enough to drown all signs of malaise of the miserable sod that I had become. Wm and I gaily plonked ourselves into the cockpit of Jim and Roberta's boat 'Chipper' moored nearby and sucked merrily at gin and tonic most of the day.
Jim and Roberta on Chipper.

Looking over at the Manatee (the one with the orange bits on it)
The mood lifted more with the meeting of many fine folk gathered in the lounge of Ted and Sarah's condo unit right on the beach. There, we met a nice chap called Lee who is involved with the fracas over mooring in the area. He told me it was one person in the area, who had way too much money for common sense, who decided he did not like boats moored in his view. Does this mean that bits of paper and round metal discs have more power than so-called intelligent man? Crikey, I'm on the wrong planet. Pass me another drink Prudence.
Lee Henderson says, "Please don't pass Marco Island. Come in groups and support our rights to anchor."

We say, "We love Marco Island!"
Wm and Jim discussing what to wear.

Sarah showing everyone that life begins at 50 because she now knows what to wear.
Ted took Wm and I up to the top of the Condo to look at Marco Island. This is where I realise how flat the Everglades are. The interior of the Condo is bright and looks a lot like some of the hotels I visited in Alabama.
Ted and Sarah.

Marco Island from the Condo roof.
| | | |
| --- | --- | --- |
| | The beach is mostly unspoilt and kept in prestine condition. Groups of birds stand on one leg peering around them in deep thought. | |
After hearty quaffing, we went to walk on the beach. Wm was in heaven as he lifted shell after shell; the ethereal man-child in endless pursuit of his treasure. Meanwhile, Jim carried Roberta as far as the sand. She was having a better time than all of us put together! After a bit of a sand-dance we decided we needed to get her to bed, so squashing back into our little Kia Rio, we drove back to 'Chipper'.
My Feet in white sand on Marco Is. Beach.

Wm working on his missed youth.
The Bed Story is one that will probably be repeated at many inebriate gathering across the pond. It is the one about the V-berth being the 'junk-room' and not a place for the faint-hearted to enter. After backing out of there screaming, Jim said he could "pull the bed out in the saloon." It was a little stiff, so he gave it a big yank and it flew out across the pit. We took 10 minutes to Chinese puzzle it back into place…yes, a couple of drunken sailors making a bed, got the picture? "Now, lay on it carefully, please don't jump on the bed tonight." he warned as he turned toward his cabin. We all settled down, and I snuggled in under a pile of liquor bottles on the inside, while Wm balanced himself on the extended part. The lights were turned out, and all was quiet when I decided I needed a glass of water. I carefully climbed over the end of the bunk and poured a glass to the brim. I turned (in the dark) and forgot the extension, though suddenly remembered when it collapsed, taking my full glass of water with it! I turned on a light, to see Wm lying on his back with his hands still behind his head on the floor with that wry look… he does not have to say 'stupid woman,' it was already in his tight lipped glare. There was water all over our bedclothes, everywhere, that really did not need to be wet. Jim came bouncing out of his cabin to find me trying to mop up while Wm laid there trying to ignore the event. "You guy's OK?" He asked.
"I told him we can't have sex on this bunk," I replied as I shook the blankets, "but one thing just led to another…you know…"
Jim went back to bed as the adventure continued into the night.
The air conditioning made the boat very cold, and after a few minutes I asked Wm to swap places with me so I could sleep on the floor wedged between the table and bench. He grumpily complied and immediately settled into that comfortable breathing style of a walrus. I lay there, eyes wide shut, staring at dreams of ice-flows and crumbling glaciers. I woke suddenly after two hours of encroaching frost-bite. I snapped into survival mode, gathered up my bedding and crept up to the cockpit and the glorious heat of the night. It was not long before those relieving tingles of feeling and warmth returned in welcome frenzy to my limbs. I slept sinking with that deep-sea diver, without those endless periods with the groundhog or the long stretch with old Abe. Yeh baby! Gim'me the heat of Florida.
The story ends with an ahhh. When I woke to a mug of an evil brew called "Tainted Coffee", across the pit was Wm crawling out of his blankets. "When did you come up here? I thought you hated sleeping in the heat!" I exclaimed surprised to see him.
"Well, I woke up in the middle of the night feeling like something was missing." He replied, "I looked down and you were not there, so I found you up here and decided to sleep here too."
Oh, dear, that is cute!" I smiled.
"Maybe," he mused, "I just don't like being apart from you."
Crikey, someone pass the bucket!
| | | |
| --- | --- | --- |
| | Meanwhile, back on Gandy... | |
We drove back to our "Gilligan's Island," and I continued my job hunting. By Thursday that week I had started to lose my morale as I struggled with trying to match myself up with a job. It would seem that with any job these days, it is far more important to have years of experience, than any training or qualifications. I am at a huge disadvantage being a person of varied qualification with experience in traveling and adventure over recent years. What does one do with that?
What the heck, I got my fabrics out and started working on my quilts and art projects, while I stuffed leaks on the boat and dodged cockroaches in the bathroom.
My lost soul swam around the quagmire of despair, when the phone rang. It was Wm. "Pack the boat up dear, we are moving to St Petersburg Marina this weekend."
"But, I…" I replied thinking of plans I had made…Plans?
I called my dear friend Jane and asked her if she would like to sail this weekend. She whooped with delight at the prospect of catching the wind, I whipped up frenzy and started tying everything down, putting things away.
Gandy Frontdoor.

Gandy parking lot.

The infamous Boghouse.

Goodbye "Gilligan's Island"
Saturday morning arrived, and the final detachment from landlubber neediness was in progress. We climbed aboard, waved to the cockroaches, and other such frightening creatures of large proportion, and left. There was a good wind, so the sails went up and the engine switched off. Once we left the channel, it was two straight tacks right into the marina in St Petersburg. That is the shortest sailing tale ever. That was it.
Thank goodness, I'm off!

Tacking straight into paradise, wing on wing. (See the pier?)

Jane taking the helm.

St Petersburg Basin. Moor here to visit us!
Tucked into the West Building, we face the Bayshore Park. The boat rocks wildly in the easterlies, which makes sewing my artwork challenging, if I want anything I generally find it on the floor or under the table. I love to be rocked, so sleeping has been deep and refreshing. I walked over to a local fashion boutique and got a job within days. It is very part-time, not profitable, but it is fun and lively with a great bunch of people working there. In a way, it is good that I have time to work on my own artwork as well as handle the usual annual onslaught of Fine Arts Salon preparation. Another part of my life is organizing an annual art exhibition for a caving Convention. This year will be my tenth as the SpeleoArt Coordinator and I will be having my own private celebration as not many people really know that!
Dreamweaver in dock.

Our front door. Dreamweaver is on the right.
View from our front door.

Dreamweaver from the shore.
The weekend after our move we headed on down to Marco Island through a storm of 'Lovebugs'. They have a lifespan of about three days. I watched them as they did this on my boat right in front of me! With no shame or pride, the female falls over and lies on her back with her legs kicking. A male hovers about and dives onto her and sticks to her butt. They then fly around for the rest of their lives stuck together trying to fly in different directions, flying into everything and crashing about, then they die. To increase their penchant for High Sensation Seeking, (HSS) they mostly congregate around highways and, the ultimate favorite - Interstates. Here they gather in dense crowds and slam themselves against speeding vehicles where they weld themselves into the paintwork and meld into the windscreen. Yeh, Lovebugs, we love'em.
Once again, I had another memorable night on 'Chipper'. Ted and Sarah came over from the 'Manatee' in his orange Caribe dingy and took us on a very fast ride around the little islands. I think he was trying to blow Roberta's top off, she spent the whole trip frantically tugging and pulling on it as the wind caught it from different directions! When we got back we were soaking wet.
| | |
| --- | --- |
| | The crew partying on Chipper, Marco Island again |
Jim had steaks on the grill and drinks were poured, a wonderful evening pursued, ending with Ted falling asleep and Sarah slinging him over her shoulder to carry him home.
Wm and I cut out all chance of beds collapsing by setting up home in the breezy cockpit. Wm immediately fell asleep. I stared at the moon shining through the bimini window. Then it started. A squeak, a constant high pitched bleating squeak. I tossed and turned, it got louder. I got up and went to lie in the saloon; I could still hear it and it got louder. I got up again and walked outside onto the deck. It stopped, I went back in and two minutes later it started again! Bloody cricket! I stomped over Wm, back outside, and gave that cricket a piece of my mind, and it was not polite. I shut up for an hour. Only an hour and started again. This time, Wm got up just before I got to his side of the boat, he knocked something over and Roberta came up. The cricket quickly hopped off to a boat or two over. He started up again later but too far away for me to slap him.
The next day, Wm went up the mast and then went to play with Jim and Ted on the Caribe. Roberta, Sarah and I drove over to the condo and hung out round the pool and walked the beach.
The morning after fighting with a cricket.

Wm pole climbing Chipper.
| | | |
| --- | --- | --- |
| | Very sexxy women. Oh yes we are. | |
With artwork quickly progressing and the SpeleoArt website growing and changing as we near Convention deadlines, our lives carry on as normal with our daily boat routines and living in an increasingly smaller space. I am ashamed of my side of the boat. It is piled up with artwork, NSS stuff and notes stuck all over the wall reminding me of things I have to do. So different doing this on the boat but amazing that it is possible in such a small space! The weather is very hot and humid and we are thankful for the air-conditioner. The luxury of the nicest bathroom right next door, and a lounge with lots of windows adds to the joy of living here. There is a water fountain to fill my bottle before I leave for work or a bike ride. There is security, and cleaning ladies. We have keys, and a postbox.
You may think we are spoiled and living the high life now. Not quite.
| | |
| --- | --- |
| | Crab enjoying the wet bit. |
Yes, this is a dream and I feel I am living the dream but it is still pretty rough. When it rains, it rains very hard, and it goes through the boat. The other night was spent bailing out the V-berth as rain streamed around the hatch frame and into the bow. We had to sleep in garbage bags to keep reasonably dry! We fixed that leak and we had another, in the electrics again, we don't know the source of this one but it soaks the carpet, so we have a wet patch.
In essence, life is coming up roses.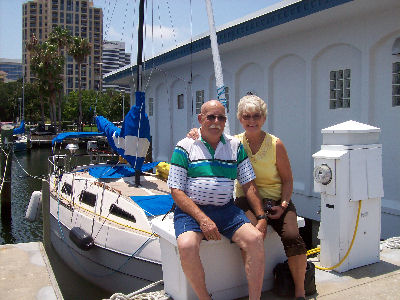 A visit from Bob and Oma, Wm's parents.
The month of May was eventful with its disappointments and contrasting moments of pure joy and excitement. My commitment is to learn from one, and savor the other… until the next time.