After two weeks at the marina, Lee the rudder builder brought us a beautiful new rudder. It was slightly unfinished but we will finish that in Florida. We just wanted to go. The weather was so cold and we felt miserable and wanted to go home. A sailing couple in "Jacqueline 2" stopped by for the night and we went off together into winds of 15-17 MPH!!! We got into the lock and had a little trouble lining up because we had not realized the motor had no reverse power! Together we pushed and pulled the boat in and tied off unscathed. Not so "Jacqueline 2".They have their mast on stands and were driving in rather fast, then reversing very fast, and they were swishing about from one side to the other. I was scared they were going to crash into us as I saw Larry mouth, "I can't control the boat!"
I saw it before it happened, I heard it echo before it hit...the boat reversed into the wall and knocked the huge mast off the stands. It took two hours for them to sort it out and return to Aberdeen before we could lock through. "Dreamweaver" shot down the river with wind on our tail to Columbus Marina. We arrived in a two foot chop and wind gusting to 30 mph, but we docked like we were supposed to be there. The night howled, and the boat shook as we took the brunt of the stormy night .
The next day we met up with the other boaters who had been there for a long time. Jerry in "Eros", a sailboat without a mast, Jim and Roberta in "Chipper" a 44ft sailboat with huge mast on stands, and Linda and John in a cruiser called "Triton's Trumpet". Later that day, Larry and Karen turned up in "Jacqueline 2". We all went out for Pizza and had a good time. We all decided to stay out the freezing weather in the Marina as it had warm showers and it was in town.
Dreamweaver at Columbus Marina after we moved her from the stormy cold dock.

Sunrise the day we left Columbus
Jacqueline 2 at the dock we were at the first night...they had better conditions!

Roberta on Chipper loking demure!
On Sunday, we set off all together for our next destination. Marina Cove. A small delapidated place that had seen better days. The water was cold and the docks were scary. The weather actually felt warmer!
We woke up next day to glorious weather and set off all together for the lock, we had to wait for a while this time and got blown about. We had a great days travel and arrived early at our first mooring out on the Tombigbee called Sumpter landing. We enjoyed rafting up with Triton's Trumpet and Chipper, the water was so calm, the air warm. We watched clear skies and stars...this is what we are doing this for, this is the real America and what humans are supposed to do together. We all found food together and ate together. Then we all went back to our boats very happy.
| | | |
| --- | --- | --- |
| | | |
| Jerry and his rain protector. | | Captain Jim on Chipper |
| | | |
| Wm and morning coffee | | Tombigbee scene |
| | | |
| Columbus Lock | | The Girls having a good time at Sumpter |
| | | |
| Jacqueline 2 and Eros | | The Boys hanging out at Sumpter |
The next day we headed out to Demopolis Marina. The weather deteriorated and we spent much of the time in dense fog and torrential rain. Thanks to the help of Chipper and Triton's Trumpet who were faster than us and far stronger, they communicated with barges and tugs and we all helped one another get through and landed safely. We sat in Demopolis for the next four days and waited for fog to clear. That was when I went to have my first pedicure and I now have the most beautiful feet in the whole world!
How does our boat look now with the new rudder and how are we coping with the small space we live in....just fine. After living for two years amongst piles of boxes, furniture and books as we made our transition from land lubbers to sea rats, the space is enough for us. We invite people on board but they quickly leave and return to their spacious yachts, "Come dears, you need a drink," they tell us. We nod approvingly and gladly comply.
| | |
| --- | --- |
| | |
| Look at the unpainted, new rudder! It works though! | Inside our cellubrious abode |
| | |
| --- | --- |
| | |
| John Jerry Jim Roberta | Wm Karen Larry Linda |
Four days later, the fog lifts and we have a completely clear day. We set off at first light wasting no time. William and I decided to see what the others want to do but we are also very aware it was near Christmas week, and the weather was due to be cold and stormy in a few days. It is also very expensive to keep hanging out in marinas. We are only here because we have to have heating. We all went quickly through the lock, Chipper and Tritons Trumpet shot off down to Bobby' Fish Camp (wimps!) and we anchored in 12ft at the back of Bashi Creek, with Jacqueline 2 (who hogged the entrance in 7ft) and Eros.
| | |
| --- | --- |
| | |
| Paradise Lost | Full load on this tug |
It was during these next few days we really got to know the personalities of our companions. Some are dependent on others to get them down stream it seems! Wm and I laughed at some of the communications going on, and were amazed at some irreverence for the condition of engines. We got confused with some tow operator instruction to, "Pass on my one" which we understood to be pass on his port, thus we found the Chart #1 Nav book is totally wrong on sound signals for passing. Captain Jim helped us fathom and understand it, and did a classic Capt. Barstard, "DON'T TAKE ANY NOTICE OF THE BOOK! IT'S WRONG!" I was impressed!
We left Bashi Creek first in the fog. We decided it was in for the day, but getting to Mobile Bay within the next few days was very important as storms are worse than fog in the wilderness. We met a few tows with massive barges but we heard them coming due to a boat in front of us having communication skills worthwhile of a monkey with a mouth full of marbles. We would hail the barge and let it know our position within an estimated mile of his position, then we would get the one or two whistle instruction. Here is the correct rule:
The vessel with the right of way will decide the side to pass. Whether the vessel is being overtaken or crossed, the instruction will be one whistle =YOUR port, or two whistle = YOUR starboard.
Do you really want to know what it is like encountering a loaded barge at a sharp bend in thick fog?
We actually arrived safely at Bobby's Fish Camp and tied up next to Tritons Trumpet and blew their fuses with our demands for heat and Earl Grey, but I think they still loved us. The weather never cleared up and we were worried it would be foggy again the next day.
It was William's birthday. We were told by the others who had arrived, that Bobby would not open the showers and bathrooms. I went up to see Bobby and we chatted for a while about the camp, and looked at some really wonderful memorabilia scattered around the shop. I even had my photo taken with him and tried to stroke his very shy dog. Good dog sniffed my finger and ran off! I asked Bobby if I could possibly have a shower because I probably did not smell too good, and he directed me to a really nice bathroom with nice soaps and towels. The pictures on the walls were really politically incorrect but wonderful ads and cartoons from the mid-20th century that made Wm and I laugh our heads off. Bobby has run this place for 50 years, it was a riverboat dock. Time stopped here. Bobby is a fabulous creature and I was honored to meet him in person.
Wm and I set off first as the others ummed and ahhed about the weather. The fog lifted as we approached the last lock, Coffeeville. We waited for a barge to move through and the others all crept up behind us. Tritons Trumpet stayed behind because of their dog. They needed a clear run for a landing to take the dog, so we went to investigate. At MM 100, Old Lock #1 we discovered a quiet pool bathed in warm sunshine. Wm and I drifted around and found plenty of room for us all to anchor. We dropped a couple with triplines and stayed stationery all night. The triplines enabled us to raise our anchors very easily in the first light, enabling us to leave first again. Because of low tides and changing shale banks, we knew anchoring would be more of a challenge.
We were hammering down the river at a good 7.2 knots well on the way to the anchorage of our choice at MM39.2 at the Tensaw River cut-off. A short distance before we got there, Chipper lost power and his engine cut off. We turned around and came about to tie him off onto us, we putted at 5.2 knots on our 9.9 outboard, and were caught up by Superior Dreams.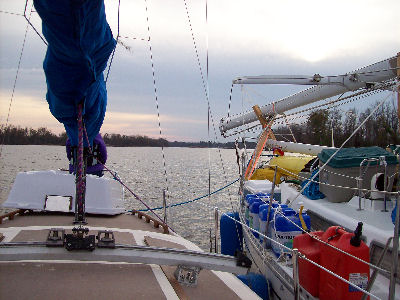 Wm and Jim dropped Chippers anchors as we were afraid ours were not strong enough to hold our two boats. Chippers dingy was out of action too so Superior Dreams cleverly tied up beside us and dropped another anchor, the wind and current was picking up. Roberta was upset and was repeating she had told Jim to fill up at Bobby's. The boys fixed Jim's engine and put gas in to finish the trip. We would urge all boaters have the excellent mechanic at Demopolis go over systems before departing for the last part of Tombigbee and to completely fill up at Bobby's even if you think you have enough gas. Travelling with others as we did is advisable, especially if it is a first trip there, simply because you just cannot predict how well the distance, current and weather will be.
The trip into Mobile Bay was exhilarating for little Dreamweaver and her excited crew.
We made it! The ships channel through high-rise central Mobile was busy and the tugs, tows and other commercial shipping came at us from all directions, mostly aiming for us head on! We would pass one, two, then one again and back...this was like driving the Paris Peripheral in reverse! Crikey! This was the arse-bone burn! The swell became stronger as we approached MM0. We hit the open Bay when the weather blew in and we had cresting 3 footers crashing around us. Each trough was the length of the boat, so we bounced across with the wind blowing us to port every time the rudder broke free of a wave. I wedged myself between the tiller and the bench and held onto the stern rail (yes, you bet I had my life jacket on!) We screamed with delight! This is what we love about this boat...it ROCKS! I would have raised the sail but the wind would probably have ripped it off . Oh well another day.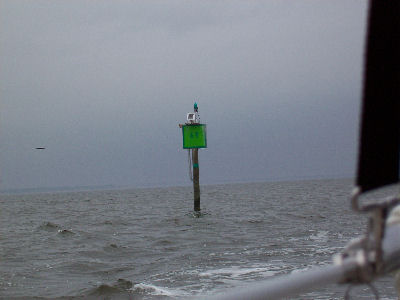 We rolled into Dog River Marina and the rain set to soak. It was torrential so we had a shower and cleaned off the salt. We wondered where Jacqueline 2 and Eros were... the Jacqueline 2 (large yacht) had run out of gas (I said we got to know the personalities)and was being towed by Eros (smaller boat) They ended up calling out Boat US for a tow but got a can of gas and the filter unblocked.
I was told the story of the trip the next day. Larry said that when his engine quit he was in the middle of the main channel, he freaked out and threw in his anchors...right in the middle of the channel! DON'T DO THAT! Drift to the side, don't worry about depth. If you have the right equipment, and it works, you will have a depth gauge. We have a fish finder on our keel! Dead cheap and it works. Get out of the main drag, then anchor. Barges have no breaks. The biggest lesson of all to learn is don't drive your boat like a SUV wrapped soccer-mom on the school run. Have all the right equipment functioning...don't ride the desert with a thirsty camel.
It is all about the engine.
We took Dreamweaver around the corner to Cliff at the Sundowner. He rescued Capt. Bastard when he smashed his face in falling off his bike. We told Cliff he taught us to sail, he laughed out loud and said he hoped it was better than he rode a bike...what does he mean?
We took the genoa down for alterations and pulled the rudder for finishing and a new tiller. We moved a bunch of stuff to change out at our storage unit. We will be back in a couple of weeks and provision for the West Florida Coast run. Meanwhile, we are in Lakeland and hanging round St Pete's for our Christmas break from living in a floating box!
| | |
| --- | --- |
| | |
| Dock at Dog River Marina | Tritons Trumpet and our fave Canadian sailors! |